12 Incredible Non-Toxic Skin Care Products That Actually Work & Don't Cost a Fortune
Finding clean, non-toxic skin care products that are both affordable and that actually work can be an overwhelming process. I'm going to simplify that for you by revealing the skin-care routine that I've spent years researching, trying, tweaking.
I have four main goals when it comes to my skin-care routine.
To spend less so I have more resources to spend on other things

To simplify the process so I spend more time doing what I love and less time fussing about my face.

To use products that are good for me and good for the planet.
To walk out the door smiling & feeling confident.
How I Find Clean Skin Care Products
To help me navigate the epic ingredient lists on the back of bottles, I use two apps: EWG and Think Dirty. Each app rates products on a scale of 1-10. Anything with a rating over 4 contains toxins that are related to problems from cancer to birth defects. Not fun! The majority of what you can buy at Target or Walmart (even the pricey stuff) is at least a 5 or higher.
The bummer is that the alternative, natural beauty products get a bad reputation for being totally ineffective. I've tried so many products over the years that either doesn't work or make the problem worse and it can be so frustrating!
So, to help you find the right products that are affordable and that actually work I've tested every single product below on my own face for a minimum of 3-months, read endless reviews on each one AND only chosen products that rank either 0 or 1 EWG & Think Dirty.
If you're wondering if your skin will like what my skin likes, I have combination skin. Sometimes it's super oily and sometimes it's incredibly dry. My skin is picky and breaks out easily and everything changes based on the time of the month. I also give a couple different options so that you can mix and match based on your skin type and budget.
Dr. Bronner's Lavender Castile Soap
This soap is super gentile and ranks 0 on Think Dirty (best ranking possible!) It is made entirely with plant oils. Plus lavender helps rejuvenate skin and calm irritation. It's super concentrated so I usually get the 4oz bottle because it's cheap and easy to travel with. When I wash my face I use a pea-sized bit of soap and a ton of water to dilute it. I use this mostly when I travel and when my skin is in its oily phase because it does a great job dissolving dirt and oil. $4.99 at the Vitamin Shoppe and less at local stores.
Nourish Organic Moisturizing Cream Face Cleanser with Cucumber + Watercress
This also ranks 0 on Think Dirty. Like Dr Bronners it is made entirely with plant oils but it's a touch more gentile. I use this one when my skin is in dry mode because it's more nourishing than it is drying. My skin has cleared up dramatically since starting to use it and I haven't had a major break out in 3 months. Only $8.39 on Amazon.
Exfoliating face washes have terrible rankings on EWG and Think Dirty. The compounds they put in them to give them that gritty texture are almost always chemicals and after years of research I have not found a SINGLE ONE that ranks 3 or lower (If you know of one, please post in the comments). Plus traditional exfoliating face scrubs are usually really harsh and can damage your tender facial skin cells. Baking soda, however, works wonders. I keep a pretty little jar from Anthropology underneath my sink and mix about a ¼ teaspoon into my hand with my face wash 1-3 times per week. It's super gentile (which is what you want), totally chemical free and actually helps pull toxins out of your pores. Plus it costs about $0.30 cents a month if that.
Toner
Toner is important for several reasons. It shrinks pores. It restores your skin's pH balance. It adds a layer of protection and it refreshes your skin. That said, many commercial toners use alcohol which is not only is highly toxic but it also damages skin cells which leads to premature aging and causes over drying which leads to breakouts.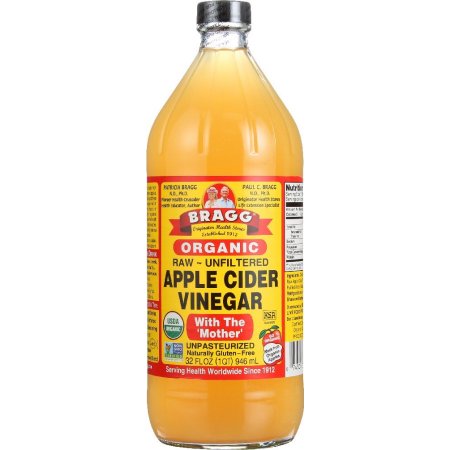 Apple Cider Vinegar & Water
Although this doesn't smell the best, it's amazing for your skin and costs under $3.00. Mix 1 part apple cider vinegar with 2 parts water in a little spray bottle. Spray it lightly on your face after you wash and then let it dry before applying moisturizer. Apple cider vinegar contains alpha hydroxy acids that will remove dead skin and reveal healthy and vibrant new skin. It also prevents acne because of its antibacterial properties and promotes new, healthy cell growth which leads to healthy, glowing skin over time. It doesn't over dry like alcohol does but also reduces oiliness throughout the day. Grab a cheap spray bottle off amazon for $4.99 and some apple cider vinegar from the grocery store and you've got a 2 year supply. I used this every day for about 2 years. Now I use it mostly when I travel because it's under the 4 oz limit and my other option is not. I also use this when I am starting to get a break out because it really stops zits in their tracks. Rating is obviously a 0. If you can use your facial toner as a salad dressing ingredient you're good to go.
Thayers Witch Hazel Rose Toner
Witch Hazel is an herb that tightens pores, controls oil production locks moisture in, and keeps free radicals out. It is also full of Vitamin C, which is helps in collagen production, strengthening skin cells, and fading blemishes and scars. The Rose petals are full of natural oils and sugars that help restore dehydrated skin and bring out a natural, dewy, glowing complexion. It has a rating 1 on Think Dirty and is what I use this daily. It costs $7.49 on Thrive Market, but you can find it for less at a local health food store like Natural Grocers or Sprouts.
Unrefined Coconut Oil
Yep, I get a circular glass container with a leak-proof lid, put a giant scoop of coconut oil from the kitchen in there and use that as a face lotion. Coconut oil is AMAZING!!! It's an incredibly powerful moisturizer because it works to balance your skin's own oil production while locking in the moisture that you want. It also contains lauric acid which gives it antibacterial properties that actually helps fight acne. It seals your pores to help keep out environmental elements that cause breakouts (like pollution, pollen, dust & dirt) and it works as a fabulous make-up remover at the end of the day. In dry skin spells, put it directly on your face, rub it in and let it be (give it 5-10 minutes to fully absorb). During oily skin phases, put it on, rub it in and let it sit for 10 minutes. Then gently dab it with a washcloth to get off any excess oil. It might cause an increase in breakouts for a week or so as your skin adjusts but eventually your skin will reduce production of its own acne-causing oil and rely on the healthy, acne preventing coconut oil. Between $6-15 depending on the brand and amount you buy. Here it's $6.99 on Thrive Market. Again, anything you can eat ranks 0 on health apps.
 
Acure Seriously Soothing Day Cream
I use this both day and night so don't get tricked by the name and feel like you have to buy two products. This moisturizer doesn't clog pores, feels light and airy and is packed with ingredients that help rejuvenate skin cells. It's actually helped my skin heal when I've had a breakout. I'll put it on in the morning and my skin is clearer at the end of the day. It's a small bottle and one of the pricer products I use (still comparatively to other products it's cheap) but you only need a pea-sized amount to cover your whole face and neck (a little goes A LONG WAY) and one bottle usually lasts me 4-months. Ranks 1 on EWG and costs $7.20 on Amazon.
Juice Beauty CC Cream
This color correction cream is perfect for days you want a little extra coverage of know you are going to be out in the sun. This stuff is AMAZING! It boasts a broad spectrum, non-chemical SPF of 30 and really works! It provides excellent moisture without feeling sticky or oily. It doesn't clog pores at all (in fact, I think it's actually helped my skin heal). It is rich in antioxidants which helps renew your skin cells while you wear it, creates incredible even skin tone and makes your skin glow. It also protects from environmental contaminants that can cause breakouts like dust and pollution. There's just nothing better than taking your makeup off at night and realizing your skin looks better than when you put it on in the first place. I've worn it on dates and mountain bike rides and it performs great both settings! I'd go to the Juice Beauty website to match your skin color and then I bought mine through Dermstore because they have great prices and a great return policy if you ended up not liking it. CC Cream has a ranking of 1 on EWG and is by far my most expensive product at $39.00. However, I've had mine now for 6 months and am not even ½ way through despite using it at least 3 days a week if not more.
Other Great Additions to Your Skin Care Routine
All day protection & moisture: Heritage Store Rosewater & Glycerin
I usually finish my morning face routine with a quick spritz of Rosewater & Glycerin. The glycerine moisturizes and softens your skin. It also gives your skin a protective layer which keeps out all the environmental toxins and dirt you encounter in your day out of your pores. The Rose petals are full of natural oils and sugars that help restore dehydrated skin and bring out a natural, dewy, glowing complexion. Plus it smells great! When I travel I keep this in my carry on and give myself a quick spray to protect my skin from all the yuck in that recirculated air when I fly and then another spray when we land to rejuvenate my skin at the end of a long flight. I used to break out every time I fly and with a quick spray before and after I haven't had a single airplane related zit. This is also great mid-day when you're feeling dry but don't want to rub more lotion into your face. It's only $5.00 at local grocery stores and it probably my favorite product! Some days I use this alone after I wash my face (no toner and no moisturizer) and my skin has improved dramatically with just this product! It has a ranking of 0 on Think Dirty and is $6.29 on Thrive Market.
Anti-aging & radiant skin: Mad Hippie Vitamin-C Serum
You know how when you spend some time in the sun, your face tends to clear up? This stuff has the same effect without all the damaging UV rays of sunshine. I was super skeptical at first because this one is a little pricey. But I read some reviews and tried it for myself and I'm sold. It contains hyaluronic acid which has anti-aging properties. The vitamin C stimulates cell growth and collagen production to make skin look and feel younger. What I really noticed is that my skin looked more firm and radiant. There are a lot of products that promise radiant skin, few that actually deliver and even fewer that aren't full of toxic chemicals. I wouldn't say you HAVE to add this to your skincare routine, but if you're looking to pamper yourself with a quality product that actually does what it says, go for Mad Hippie Vitamin-C Serum. Ranking of 1 on EWG and is $27.19 on Amazon.
Concealer: W3ll People Bio Correcting Multi-Action Concealer
For those days where you just have zits Well People concealer does double duty by simultaneously treating and covering up zits. It's easy to blend and actually helps heal the blemish while you wear it. This one is actually EWG certified meaning it has received their best possible score (even better than 0). It's $22.99 on Dermstore but I've had mine for 6 months and still have over half left.
The Bottom Line
The majority of the products above you can find at local health-oriented grocery stores (such as Whole Foods, Natural Grocers & Sprouts) for the same price or even a bit less than you can find them online. Except for Juice Beauty and W3ll People, I bought everything at Natural Grocers.
Finally, don't assume that because a brand has one clean product that all of their products are clean. Acure, for example, has some products that rate at 0-1 and others that rank 7 or higher. Same with Nourish Organic. Don't get tricked by the labels, "organic" and "natural." They mean very little. As an example, St. Ives popular natural apricot face scrub is an 8. If you want to test your own products at home, download EWG and Think Dirty from the app store and start scanning. You might be surprised!
Price wise, the above choices are the best deals out there. Depending on the options you go with your new facial routine could cost you between $20 and $140 TOTAL to get everything you need. Plus everything here lasts at least 2 months if not much longer which makes your total investment closer to $25-35/month. The average women spends $250/month on her facial care regime alone (seemed high to me too, but sadly it's not), so you're beating the average by A TON, not exposing your body to toxic chemicals and you get the added benefit of knowing that everything above works to create that clear, glowing skin that lets you walk out the door confident and free!
My Personal Skin Care Routine
Evening
Wash with Nourish Organic Face Cleanser
Mad Hippie Vit C Syrum and that's it
Sometimes I'll add Acure lotion or coconut oil if I'm especially dry
Morning
Wash Face with cool water only

Thayers Rose Petal Toner
Either Acure or Juice Beauty depending on if I'm going to be outside or inside
Mascara
Rosewater & Glycerin spritz
When I have a breakout
Wash with Dr. Bronners Lavender with a little baking soda
Tone with apple cider vinegar mix
Moisturize with either Acure seriously soothing or Juice Beauty CC Cream
Cover problem spots with W3ll People Bio Correcting Concealer
Go kick butt! :)
When I Travel (Easy & light)
Wash with Dr. Bronners Lavander Castile soap
Apple Cider vinegar toner
Acure Seriously Soothing Moisturiser
Rosewater & Glycerine when flying or feeling dry
Like this post? Please like it and share it on your social pages! It really does help!